Vacuum cleaner for Sofa & Curtains Decoded
Remember the time when you just purchased your sofa and curtains? The rosy blush on their cheeks, the soft – velvety feel and the smell, oh, that pure dust-free smell. No, I am not a creep. But I do like my sofa and curtains to be spic and span like they are just out of the oven. And for that to happen one needs a suitable vacuum cleaner for sofa curtains and other upholstery. With an array of options available, this seemingly simple decision is no less that a nightmare that you can't get out of.
But hey, it's not rocket science.
First, let's start with the basics. There are various kinds of vacuum cleaners available which are meant for different purposes, be it household or commercial.
Upright Vacuum Cleaners – Carpets & Bare floors
Canister Vacuum  Cleaners – Drapes, Sofa, Upholstery and under furniture
Stick Vacuum Cleaners – Light carpets, Rugs
Handheld Vacuum Cleaner – Cars and small areas
The most suitable vacuum cleaner for sofa, curtains and upholstery is a canister vacuum cleaner but there are a few exceptions. For example, Kent has made a vacuum cleaner specially designed to clean upholstery and mattresses. It uses UV radiations and other fancy-sounding stuff to not only remove the dust but also kill those bed mites sleeping with you (It's on our list too).
Coming back to the point, we now have a fair idea about the basic difference in the structure of the vacuum cleaner. So let's dig just-a-little deeper to understand our cleaning buddy better.
 ↓↓ Continue reading below ↓↓
Add-On cleaning tools
In general, all canister vacuum cleaners come with multiple attachments suiting to various household cleaning jobs.  A narrow tool for crevices, an upholstery brush, and a round brush for dusting are the typical ones. Now, as we are focussing on cleaning sofa and curtains, the 'upholstery brush' plays much importance. A Vacuum cleaner for sofa, curtains & upholstery should have an attachments with thick bristles as they clean the sofas thoroughly. Some VCs also have multiple upholstery attachments i.e one for the surface, one for corner etc etc. But don't be dazzled by them, one useful attachment is always better than three average ones.
Suction Power
(I know it's a little tricky, but stay with me. )
Suction power is the power of the motor in the vacuum cleaner with which it can pull the dust particles. So, more the suction power, more dust can be pulled out from deep within. But in most cases, with increasing power, the weight and size of the motor also increase thereby, making it noisier and heavier.
Useful features to keep an eye for:
Auto cord rewind: Press a button and the job is done.
Dust Container Full indicator: You don't have to open the diaper and check for poo every time. When it happens, you'll get to know.
Capacity: The higher the capacity, the less time you spend changing the bag or emptying the drum.
Filters: OCD about dust? Check the filters. A microfiber filter would mostly serve the purpose. But in case you suffer from allergies or asthma, you might consider a HEPA filter which can trap 99.97 percent of dust particles.
Top 6 Vacuum cleaners for Sofa and curtains
Because I am sure you don't want to spend your lifetime on deciding which vacuum cleaner to buy, we have done the research and reviewed the available options for you. It includes both searching the internet for days (sounds like an exaggeration but honestly)  to going to the local electronics store and eating the poor salesman's head. Here are the top vacuum cleaners available in the market for sofa and curtain cleaning:
1. Eureka Forbes Trendy Xeon
Price
₹ 7999
Dimension
33 x 38 x 49 mm
Weight
6.1 kg
Bag
Yes (3l)
Power
 1300 W
Attachments
Floor cum Carpet Brush, Crevice Nozzle, Grill Brush, Spray Jar, Atomiser, Upholstery Cleaner,  Precision Cleaner, Multipurpose Brush
Warranty
1 year
Blower
No
Pros
• Powerful  Motor
• Multipurpose
Cons
• Noisy
• Gets heated after 45min -1 hr of use
• Cord not long enough
2. Black and Decker VM1650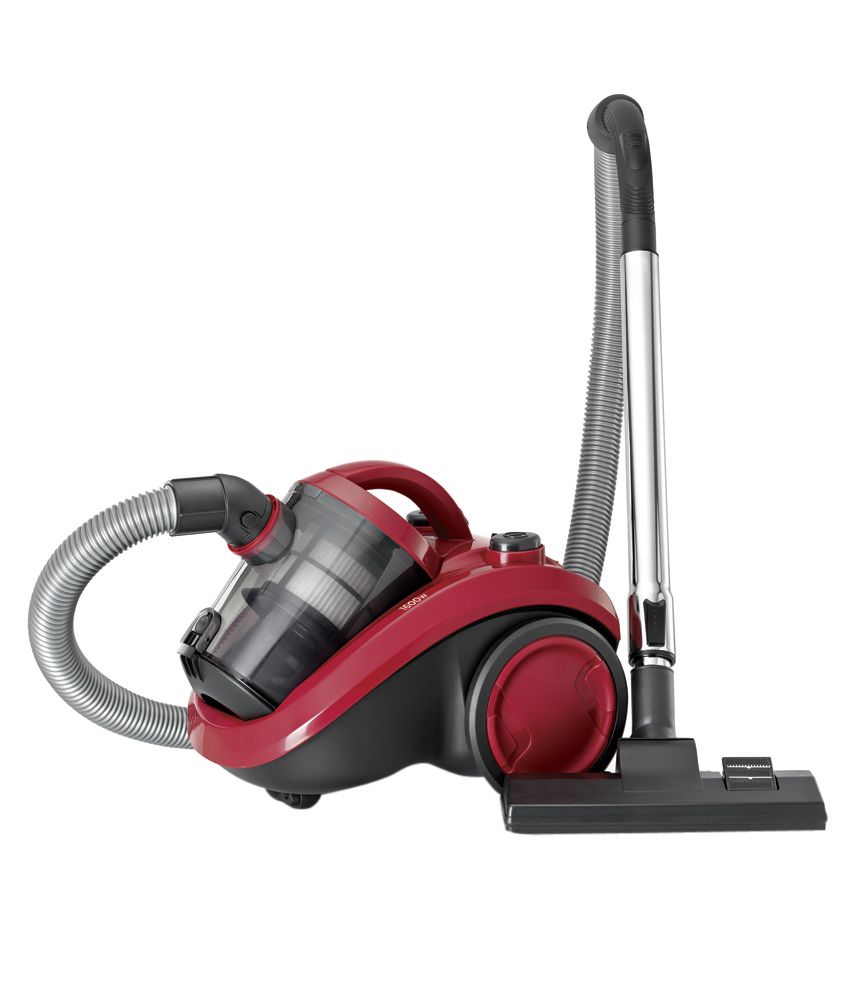 Price
₹  9995
Bag / Bagless
Bagless
Weight
4.8 kg
Dimension (cm)
41.9 X 29.2 X 27.9
Power
1600 W
Attachments
Cervices and Upholstery brush
Warranty
2 years
Blower
No
Pros
• Compact Design
• Cord Winder
• Transparent Dust Box
Cons
 • Noisy
• Avg build quality
Buy Black and Decker VM1650 on Amazon.in (Discount available)
 3.  Eureka Forbes Trendy Steel 
Price (MRP)
₹  7499
Bag / Bagless
Bag – 3l
Weight
8.9 kg
Dimension (cm)
55 x 28 x 23
Power
1300 W
Attachments
Crevice Nozzle, Multipurpose Brush, Carpet Brush, Aromiser, Spray Jar, Grill Cleaner, Car Cleaner, Coat Cleaner , Top End Adaptor , Air Jet Nozzle, Precision Cleaner
Warranty
1 year
Blower
Yes
Pros
• Variety of accessories
• Good power of suction
• Cord winder
• Dust bag full indicator
Cons
• Heavy
Buy Eureka Forbes Trendy Steel on amazon.in (Discount available)
4. Eureka Forbes Quick Clean DX
Price
₹  4399
Bag / Bagless
Bag – 0.5 l
Weight
3.6 kg
Dimension (cm)
33 x 21 x 23
Power
1200 W
Attachments
Crevice Nozzle, Upholstery Brush, Carpet Brush
Warranty
1 year
Blower
No
Pros
• Compact Size
• 3 Extra Bags
• Cord Winder
Cons
• Noise
• Burning smell
• Gets heated up
• Fast suction
Buy Eureka Forbes Quick Clean DX 1200-Watt Vacuum Cleaner (Red) with Free 3 Dust Bags on amazon.in (Discount available) 
5.  Panasonic MC-CG304B14C 
Price
₹  6064
Bag / Bagless
Bag
Weight
3.3kg
Dimension (cm)
 46 x 33 x 28
Power
1400 W
Attachments
Cervix nozzle and an Upholstery nozzle, dusting brush, floor brush
Warranty
1 year
Blower
Yes
Pros
 • Compact & lightweight
• Great suction power
• Good build quality
Cons
 • Small On/Off switch & hence can't be operated by foot
• Avg blower function
• Small dust bag
 6. Kent Bed & Upholstery 
Price
₹  7195
Bag / Bagless
Bagless
Weight
2.34 kg
Dimension (cm)
40 x 33 x 22.5 cm
Power
450W
Attachments
No attachment
Warranty
1 year
Blower
No
Pros
• Lower Noise
• Compact
• Less air pollution due to lower dust and particulate matter (PM) discharge
Cons
• Only used for sofa and mattress
You can check out review of Kent Bed and Upholstery Cleaner here.
Buy Kent Bed & Upholstery Cleaner on amazon.in (Discount available)
Best vacuum cleaner for sofa, curtains & upholstery cheat sheet
If you are one of those who just don't have the time to or patience to read, here is a cheat sheet for you.
| | | | |
| --- | --- | --- | --- |
| Product Name | Type | Price | Bag |
| Eureka Forbes Trendy Xeon | Upright | ₹  7,999 | Yes |
| Eureka Forbes Trendy Steel | Canister | ₹  7499 | Yes |
| Eureka Forbes Quick Clean DX | Canister | ₹  4699 | Yes |
| Black and Decker VM1650 | Canister | ₹  9995 | No |
| Panasonic MC-CG304B14C Vacuum Cleaner | Canister | ₹  6064 | Yes |
| KENT BED & UPHOLSTERY (Handheld) | Handheld | ₹  7195 | No |
| | | | | |
| --- | --- | --- | --- | --- |
| Product Name | Weight (kg) | Power (W) | Attachments (No.) | Blower |
| Eureka Forbes Trendy Xeon | 6.1 | 1300 | 9 | Yes |
| Eureka Forbes Trendy Steel | 8.9 | 1300 | 11 | Yes |
| Eureka Forbes Quick Clean DX | 3.6 | 1200 | 3 | No |
| Black and Decker VM1650 | 4.8 | 1600 | 2 | No |
| Panasonic MC-CG304B14C Vacuum Cleaner | 3.3 | 1400 | 2 | Yes |
| KENT BED & UPHOLSTERY (Handheld) | 2.34 | 450 | 0 | No |